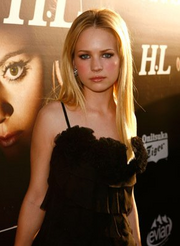 The part of
Lux
is the first major starring role for
Brittany Robertson
(whom is usually credited as
Britt Robertson
), but her resume is impressive: she appeared in the movie Dan in Real Life and in the short-lived drama Swingtown.
Robertson grew up in South Carolina and truly fell in love with acting at age 12. She started making trips then to Los Angeles to audition for shows and commercials.
She was the main character in the King Arthur-inspired television movie, Avalon High in 2010.  She starred as Lux from 2010-2011.  She would move on to CW new show, The Secret Circle, which she was the main character. The Secret Circle is based on witchcraft (somewhat similar to WB's [one of the component networks that made the CW] Charmed).  It ran only for twenty-two episodes/one season, with many fans pulling for a return.
Britt returned to the CW in a somwhat supporting role in the show Under The Dome. Unfortunately, her character was killed off in the first episode of season 1.
Robertson snagged the lead in the Netflix series Girlboss, but that show only lasted a season.
She has also starred in movies such as The Longest Ride, The Space Between Us, and Tomorrow Land.
Currently, Britt is acting in the ABC lawyer inspired show, For The People, where she portrays a lawyer named Sandra Bell.