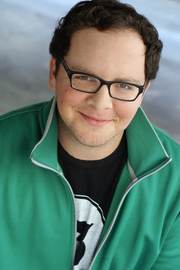 Austin Lee Basis
was born and raised in Brooklyn, New York in a little beach community called Sea Gate at the end of the famous Coney Island boardwalk.
Austin plays the part of Nate Bazile's friend Math, but his television debut was in the Comedy Central film "Porn 'n' Chicken." His break came in 2004 when he was cast as Lou-Lou Versini in an episode of "LAW & ORDER: Criminal Intent."
After several trips to Los Angeles, Austin landed a role in a Warner Brothers TV pilot for FOX called "Spellbound" with Christine Baranski, Barry Bostwick and Dave Annable. He soon moved out to LA for good and began making a living as an actor. Austin's initial success was in National Commercials. He has appeared in spots for Toys 'R' Us, Wendy's, Dr. Pepper, State Farm, Burger King, and AT&T. He also plays Benjamin Bankes, the pig in the Ad Council's "Feed the Pig" PSA campaign.